Cooking Course of the City of Puebla, Mexican Cooking School

What I teach is the traditional cuisine of the city of Puebla.
All my classes are in English, hands-on and very small. We are open year-round and have no minimum group size. I do have a limit of 6 maximum with 4 being typical. I will include recipes of special interest on request if possible and longer or shorter courses, as well as reserved private lessons, can also be arranged.
My schedule depends on requests from students.
If you are the first to ask you can choose the dates that you would like and we will conform to your schedule as long as you are the first to ask.
When choosing your week keep in mind that classes can start on any day of the week, but our timetable is always the same – 7 days 6 nights as follows:
Arrival day………………Cocktails and dinner
5 days of classes………Afternoons free
Last night………………..Cocktails and live music
Final day…………………Breakfast and morning departure. Let me know what dates you would like and I can confirm your dates and send you deposit /payment information.
We do fill up some months in advance. If you have a date in mind it is a good idea to let me know as much in advance as possible and I will try to accommodate your request and hold a space for you.
Once you make a reservation with a deposit we will not cancel because a class is not full. Remember that we have no minimum.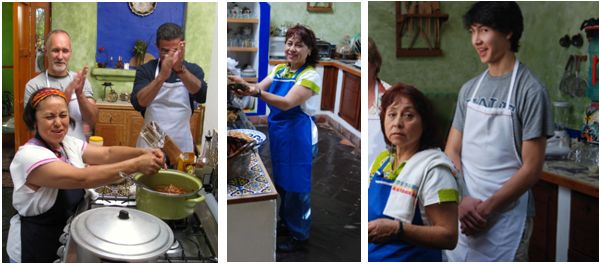 I am passing on what has been kept alive in my family of these dishes and traditions. My desire is to offer a special experience and open a door to Mexico that is rarely available to tourists.
Each guest is unique and has different interests. Because I have very small groups it possible for me to be extremely flexible. Unlike an impersonal resort or hotel, I am available to respond to individual needs. As much as possible I structure my classes to the interests of my guests and I format each course to the level of expertise of the student. You don't need to be an advanced cook to learn this cuisine. My classes are designed for home cooks and food enthusiasts from beginner to advanced, in a relaxed environment. The techniques are simple to learn, and you'll be surprised how deliciously complex the flavors turn out. Though you will learn about the flavor nuances of a host of chiles, this is not a course about hot and spicy food. It is about flavors, as ancient as the Aztecs and as sophisticated as French cuisine. And of course, the classes are fun.
Classes are 2 – 2 ½ hrs each day. You will be preparing lunch and dinner. Each day will include a soup, two main dishes, sauces and usually a dessert.
A typical day's recipes may include:
Squash blossom soup
Almond Chicken or Duck
Pork, lamb or rabbit in Adobo sauce
Beef in Chile Pasilla sauce
And perhaps "fiancées sighs" a dessert with walnuts covered in syrup, lemon and cinnamon.