Reservations & Fees
Each room is the same price and reservations are made on a first come first serve basis.
Your package includes:
Airport pickup
Six nights accommodations
Welcome cocktail hour on arrival
Daily maid service
Free wi-fi internet service in the main house (using your computer)*
Lunch and dinner with beer, wine or margarita
Live music night
5 day culinary course
Printed recipes and a culinary memento..
Airport return via shuttle bus
Our normal package price is $1,798.00usd per person, double room. Once we confirm your reservation we will not cancel a class for lack of students.
*We are in rural Mexico and do live within the local culture which includes occasional lapses in first world technology. This being Mexico there are sometime lapses of wi-fi due to conditions that are beyond our control. If we have a loss of internet connection there is always service available 15 min. away in downtown Tlaxcala.

We will work with you to provide an out of the ordinary gift for that special occasion. A class can be customized as much as possible for the recipient and arranged for a set date or open date to accommodate the recipient's schedule. Of course we will provide a special gift card for the anniversary diner, under the Christmas tree or for whatever special occasion you would like!

We are always happy to work with families or groups that would like to get away to spend some out of the ordinary time together for a private week of cooking. For a groups of 5 or more persons we can close the week just for the group and customize a menu for special dishes or areas of interest. Check with us for group discount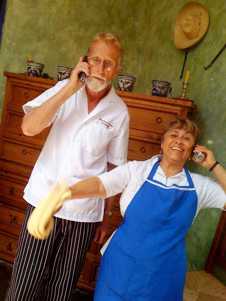 Proprietors:  Señora Estela Salas Silva and Jon Jarvis
For reservation contact Jon Jarvis at:
mexicanhomecooking@yahoo.com
Or by phone
In Mexico:011-52-246-46-809-78, from the U.S. and Canada
In the U.S: 415-462-0806, Our San Francisco number that rings in Mexico. We are here to help you. If there is any way we can assist you with your travel plans let us know.
Do not hesitate to contact us for any questions or requests that you may have. Because our classes small we can be very flexible and are here to help you arrange your visit with us.
Shorter courses and private classes are available on request. Tell us what your needs are and we will do our best to create a class that meet them
We'd like to hear from you!