THE JOYS OF PULQUE AND MEXICAN HOME COOKING
I always like a glass of good pulque and my friend Pedro outside the city of Tlaxcala in central Mexico had some of the best.
Once allowed only to Aztec nobles and priests, pulque is produced by cutting out the center of a Maguey cactus and collecting the liquid which rises from it. Fermenting naturally in two to five hours, the resulting drink is mildly alcoholic, viscous and sweet. Served at room temperature, it is an acquired taste – as are the locations, or pulquerias, where it is sold.
Pedro's pulqueria is definitely one of the best. Calling me his "brother" we would sit together in the shade of the bottle brush tree in the sandy area behind his gate. There we listened to his clientele of farmers and peasants talking in Spanish or Nahuatl as they sat surrounded by an assortment of dogs, chickens, turkeys and goats – as well as their distinct and mingled smells – drinking what Pedro called "the elixir of the gods."
Pulque, I was told, would cure everything from guilt to senility. When served with "chito" (a dried meat), they assured (!) me that it would produce a male child. You won't find Pedro's in any guide book; It is hidden from the world, left over from some other Mexico that doesn't even exist anymore…
As we sat there soaking up the earthy ambiance a car pulled up. Amid clouds of swirling dust and barking dogs, blond heads were visible over the high gate. Pedro yelled "Johnny!" and rose to hug the thin blond guy who had just arrived, followed by three middle-aged women and another man, all Americans. Odd I thought. Quite odd.
It turns out that I have another brother! Pedro leads him along with the others into the distilling room. He motions me to follow. My new brother Johnny is here with students from his cooking school for a "Pulque Experience." We are led into a tin-roofed adobe room, lined on one side with old rakes, sacks of corn, broken shovels, religious statues, burning candles and a stuffed armadillo. On the other side are dozens of five-gallon plastic cans full of bubbling, fermenting pulque. Pedro is serving, and the air is heady.
Johnny tells me that pulque is used in many recipes here in central Mexico and that his Mexican wife Estela considers it part of the culinary experience of the country. To think that I thought that Pedro and I were merely having a drink when it turns out that I am actually having a culinary experience with my "other" brother and four "gringos!"
They definitely got my attention with all that talk about pulque and food. So I followed them out and around señorita Romero the sleeping pig and out to the road, into the dust and on to meet Doña Estela at her home in the next town. I liked what I saw, and figured anyone who sent her students to Pedro's for a culinary experience had to be interesting. So I signed up, moved out of my hotel and into Estela and Johnny's house for a week of lessons at "Mexican Home Cooking."
My fellow students Crocker, his daughter Hester, and the two women, Billie and her friend Bridget turned out to be as interesting as the rest of the crowd at Pedro's They all loved cooking and with glasses of wine at hand we diced and sliced and fought over who got to dredge the chicken breasts. As classical Mexican music seeped into the food, Estela and her helpers did their best to empty our heads of measuring spoons, cups and any preconceived ideas of Mexican cuisine we may have had. "Touch, mix, taste – use your hands – feel the food!" she said.
Doña Estela had at least 15 uses for masa (tortilla dough) – round, oval, open, topped, flat or thick – these we covered with sauces and filled with unknown greens and blossoms, cactus, mushrooms from the fields and fungus from corn. A parade of meats appeared as neighbors brought rabbit, lamb, possum and barbecued goat. Yes we even used pulque, that "elixir of the gods." And feeling a little godlike ourselves, we ate the forbidden amaranth (banned by the Spanish as food of the devil) while visions of the inquisition filled the kitchen….
Gradually we began to let go of our busy minds and entered the world of sensation and tastes, of mingled aromas and people (hilariously enjoying themselves) trying to execute that perfectly flowered cauliflower. Success!…with much clapping and patting on backs; It was Mexican Grand Opera with music in the air and a toast to ourselves and Estela!
The days were filled with delights. There were visits to ruins – the Mayan – style murals and pyramids at Cacaxtla really knocked me out – as well as a colonial city to explore, with cafes and dancing under the portales on the square. And best of all, the tastes… There were tastes I never dreamed of in Mexican cooking!
It was winter; the nights were chilly and filled with the smell of burning wood and cooking tortillas. One by one we would wander in to sit and talk. One night around the fireplace in my room, Billy told us a little of her own story: In 1936 her father had lost everything in the depression. With his last money, he bought a ticket in New Orleans and boarded a ship for Veracruz. He arrived with one bag and a stolen typewriter. He soon sold the typewriter and bought two more. A business was born and two years later, in Mexico City, so was Billy! Selling typewriters, her father became one of the richest men in Mexico, and Billy was born a Mexican.
The story ended and music called us to our dinner. It was our last meal together and the musicians had arrived. They serenaded us into the evening singing "volver, volver" – "comeback, comeback" to Mexico as we ate and sang and sipped our Margaritas…
In the end it was okay that Hester never was able to get her hands into those duck eggs to separate the yolks. It was a color thing she later admitted – the brilliant yellow yolks did her in. And Billie and Bridgett never did discuss their – I thought – rather excessive enjoyment in the soft masa dough. But for me, it was the "fiancées sighs" covered in honey, lemon and cinnamon that left me forever changed.
Mexican food, for me, has become an elusive smell, a subtle, delicate or intense flavor remembered from there and never quite found again…except sometimes with Estela's recipe book out. I begin to remember to taste and touch, to feel the food and I try again for that perfect walnut sauce for chiles in nogada.
You can find Estela at: www.mexicanhomecooking.com
Pedro and the pulqueria can be reached by foot.

Estela's Story

Cuisine from the city of Puebla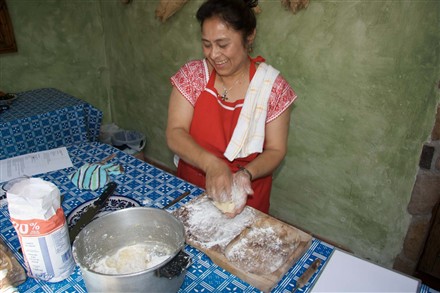 When the Spanish came to Mexico in the 1619 many native dishes were accepted and adapted but many more were lost. They came to conquer and replicate the culture and cuisine of their homeland. They had little intention of adapting Aztec cuisine with its unfamiliar forms and tastes. What is not often noted is that all the forms of "Spanish" culture came with a strong "Middle Eastern" influence due to the Moorish rule of Spain for 500 years.
The most common ingredients for the endless varieties of today's Mexican Cuisine include tomato, onion cinnamon, tortilla, chiles – including anchos, pasillas, mulattos and chipotles – pumpkin seeds, raisins, cloves, sesame seeds, almonds, tomatillos, oil, garlic and salt. Nearly half these ingredients arrived in the New World with the Spanish.
The influence of the Middle East and Persia are particularly apparent in the cuisine of Puebla in its use of numerous fruits and spices – such as cinnamon, ginger, cloves, cumin and nutmeg.
The tradition of the recipes that Estela teaches comes from at least 5 generations in the city of Puebla. (the location of the famous battle of "Cinco De Mayo" now celebrated in the U.S.) Two of her great-grandmothers came there with Maximilian and his troops during the French invasion, married local men and stayed in Mexico. That invasion changed the cuisine in Puebla; the French influence effecting the traditional recipes in the area.
Puebla at that time still had a very special place in the culinary tradition of Mexico due to the long tradition of hospitality in the convents, their kitchens catering to the royal and church officials resting at the halfway point (Puebla) between the coast and Mexico City.
The women in Estela's family for generations prior to her time worked as cooks for the well-to-do residents of Puebla. Estela began a classical culinary apprenticeship at the age of seven in the traditions of Mexico that still existed at that time under the tutelage of her great-grandmother, grandmother and the older women of her family.
After working in various restaurants in Mexico Estela left and spent 20 years as head chef at her family's restaurant in San Francisco (Mill Valley), returning here 16 years ago to open her school "Mexican Home Cooking"
Her dream was and has been to pass on not only the traditional cuisine of Puebla, which is being lost, but also the distinct and unique dishes developed by her family while cooking for the privileged class in Puebla.
Her course is unique and due to its small size she is able to format her classes to the level of her students, allowing her to present her course to novices as well as professionals. She has had students from 13 to 83 years old and also professional and private chefs. Rick Bayless joined her for a day of mushrooming along with the staff from his Chicago restaurants.
In 2011 The "Ala Emma" show sent a crew from Channel 5 TV in Stockholm to film a class with Estela.
In 2011 Chuck Hughes , "Iron Chef" winner joined Estela in Tlaxcala to shoot a segment of his new show "Chuck's Week off" for the U.S. and Canadian food channels.
What she is offering is obviously very special. Her students now come from as far away as New Zealand, Switzerland, Sweden, Japan, Spain, The Netherlands, Germany, Korea, South America, United States and Canada.
Caterers, Professional and private chefs have come from New York City, Manila, Philippines, St. John, Virgin Islands to Estela to consult on menus and widen their repertoire in as well as to open new Mexican restaurants using her recipes in Soul, Korea, Brazil and Cambridge, England.
The Press:
United States:
Gourmet Magazine,
Bon Appetit Magazine, May 2003
San Francisco Chronicle,
Friends Magazine (Dallas, Texas),
The New York Times http://www.nytimes.com/2005/05/04/dining/04cinco.html
New Yorker Magazine
USA Today Jan 2018
Afar Magazine, 2014, voted #1travel magazine in America http://www.afar.com/travelers/derk-richardson–2/wanderlists/home-cooking-classes-in-central-mexico
National Geographic Traveler 2008 http://blogs.nationalgeographic.com/blogs/intelligenttravel/2008/08/mexican-home-cooking.htm
Better Homes and gardens 2009 Afar Magazine 2009
Toronto Star: 2010 http://www.thestar.com/travel/article/828215–three-foodie-adventures-for-those-who-vacation-to-eat
New York Magazine 2011http://nymag.com/travel/weekends/puebla/index2.html
Minneapolis Star Tribune 2012 http://www.startribune.com/lifestyle/travel/159105925.html
Canada
Canadian Student Magazine 2008
Mexico:
Business Mexico (American Chamber of Commerce Magazine, Mexico City)
South Africa:
Fairlady Magazine (Capetown)
Philippines:
Philippines Star (Newspaper, Manila)
Airlines:
Holland Herald (KLM in-flight magazine)
High Life (British Airways in-flight magazine) April, 2007
Books:
"Cooking in Paradise" Joel & Lee Naftali
Lonely Planet Travel Guide
Internet:
http://www.mexconnect.com/articles/1428-just-one-and-i-have-to-go-the-joys-of-pulque
http://intelligenttravel.typepad.com/it/2008/08/mexican-home-co.html#more
wwwmexicanhomecooking.com
Television:
"Live with Regis and Kelly" 2008
http://edition.cnn.com/video/#/video/living/2008/01/07/pauline.frommer.live.cnn?iref=videosearch
"A la Emma" show 2008 Chanel 5 Stockholm Sweden http://www.youtube.com/watch?v=g5r6oloNK0k
Chuck Hughes, "Iron Chef" and host on "Chuck's Week Off – Mexico"
United States and Canadian "Food Channel" 2012 http://www.youtube.com/watch?v=-xXhLmQaCZw