The City of Tlaxcala (tlas-ka-lah) is located in a valley surrounded by three majestic volcanoes – Popocatépetl, Ixtaccihuatl and La Malinche. It is a two-hour drive from Mexico City and 45 minutes from the Puebla airport.
You can tour the city on foot or on a tram ride, the main form of transport for the citizens of Tlaxcala in the 19th Century.

A tasteful setting for your Culinary Vacation
The lovely colonial city of Tlaxcala was founded in 1524 by the Spaniards and Franciscan monks. Its heart is the Zocalo or main plaza, considered one of the prettiest in Mexico. Fountains play beneath old trees and a 19th century wrought-iron bandstand is surrounded by gardens reminiscent of Renaissance Europe and bordered on two sides by 16th century colonnades shading shops, sidewalk cafes and strolling musicians.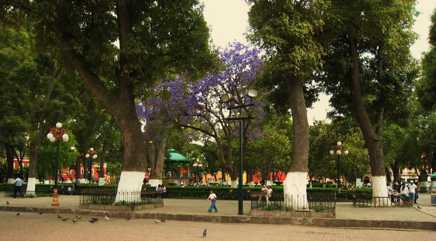 Magnificent colonial buildings dating from the 16th and 17th centuries enclose the other two sides. The Government building was used by Cortez during the conquest and later lodged the Viceroy when he passed through from Veracruz on his way to Mexico City. It now contains vivid murals depicting the history of Tlaxcala.

A second plaza (Xicohtencatl) is the site of an art and crafts fair each weekend. On the hill above, reached by a cobblestone path, is the 16th-century Franciscan cathedral . Apart from a small chapel in Veracruz it is probably the oldest church in Mexico. It is particularly exquisite, with its cedar ceiling and baroque golden altar. Next door in the cloisters is Tlaxcala's regional museum, with exhibits of pre-Hispanic artifacts and colonial religious paintings.
Near the river, close by, is the Museum of Arts and Popular Traditions, with spirited folkway demonstrations and a museum shop,

Tlaxcala is a little bit of Shan-gri-la.
"I haven't been there for about five years, but I dream about living there some day soon. 'You can drink the water right from the tap. I don't remember any dust or trash in the streets. I only saw one person asking for money. He was blind and playing music on the street corner. And only one person walking around selling small trinkets. She was attractive, well dressed and very nonobtrusive. There is thriving commerce and many well presented small businesses. Many with help wanted signs. There are very nice coffee shops and great restaurants to choose from. In one month I saw only one English speaking tourist, and a few Europeans. 
It is very tranquil, and safe at anytime of the day or night. The local people are friendly and honest. There is, relatively speaking, no crime there. The air is clean and the temperature is moderate year around. (50 to 85  degrees).
There is much culture in Tlaxcala. Symphonies from Mexico City and Puebla do concerts there. There is, Opera, Ballet, and traveling live  theater productions. Plus many indigenous cultural presentations in modern venues.
There are museums, botanical gardens, and numerous archeological sites. There are movie theater that show the latest releases of American films-in English, plus an Art theater that shoe the best of European films-French ,Italian and Spanish.  Tlaxcala has a beautiful modern library, and a University. It is a wonderful, kind of hidden, little corner of Mexico that is not despoiled by tourists-yet." -Felix Pacheco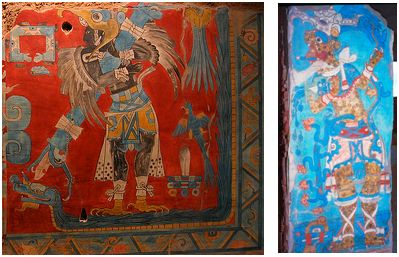 Twenty miles from Tlaxcala are the famous pre-hispanic archeological sites of Xochitecatl and Cacaxtla one of Mexico's most exciting discoveries. In 1974, tomb robbers came upon a series of brilliantly colored murals decorating the walls of this fortified ceremonial and palace complex. Wonderfully preserved for over a millennia, these images display unmistakable Maya traits, and depict life-size scenes of battle and sacrifice, all still infused with dazzling hues of indigo, ochre, red and black.
Recently, the lower level chamber has been cleared, and its murals appear to be associated with the planet Venus. The room itself is the real "star chamber," the place where sacrifices were performed on behalf of Venus.

The colonial city of Puebla famous for Talavera tiles and dishes is just 45 min. away for an afternoon visit.

Other After Cooking Class Activities
Twenty miles to the east are the verdant pine mountainsides of La Malinche State Park. Lodges, picnic areas, hiking trails and food services are available. The 14,500 foot summit of the dormant volcano offers breath-taking views. There are a wide variety of local events and festivals throughout the year, such as a state fair, bull fights, Mexican folkloric dances, concerts and the running of the bulls and flower carpets in the streets of nearby Huamantla. Your afternoons are free for sightseeing or relaxing. To round out your Mexico vacation we will be glad to help you with arrangements to take part in any local activities.
Other trips also available in the afternoon on request