Tortilla Soup
Serves 8 persons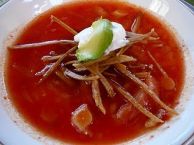 Strips cut from 12 corn tortillas (leave to dry in the sun until next day)
1 lb. tomatoes
1 large onion
3 cloves of garlic (big)
1 fresh serrano chile
2 guajillo chilies
1 ½cup ceta mushrooms (oyster mushrooms)
3 cups chicken or beef broth
2 cups water
Piece of cotija cheese (parmesan cheese)
Dried epazote sprigs (or other herb)
Sour cream, avocado slices and fresh cilantro sprigs for garnish
Fry tortilla strips in a little olive oil until crispy and golden. Drain on a paper towel.
Blend tomatoes, ¼ onion, 2 garlic cloves and serrano chile with ½ cup water for1 min.
Slice the mushrooms, finely chop other ¾ of onion & 1 clove garlic, remove seeds and slice guajillo and sauté all together in olive oil until golden.
Add blended tomato mixture and cook for 5 min. Then add broth and simmer about 10 minutes.
Add cotija cheese and herbs. Stir.
Add tortilla strips and crumbled cotija cheese when serving.
Garnish with a dollop or swirl of sour cream, avocado slices and cilantro.