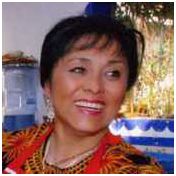 West of Veracruz beyond the coffee and vanilla plantations the road climbs to the high plateau of central Mexico.
Here is Tlaxcala where I live and where the indigenous tribes and Europeans first mixed. Nearby is the city of Puebla where I was born and where the kitchens of the "New World" joined with those of Spain, Persia and France, creating "Cocina Poblana" the Cuisine of Puebla. This is a fusion of tastes that is unique to this area of Mexico and far beyond what is thought of as "Mexican Food".
My desire is to keep this cuisine alive and pass on the recipes of my family. From aficionados to serious cooks who are interested in new culinary delights I share my experience with them at "Mexican Home Cooking School". The wonderful part is that you don't have to be an advanced cook to learn this type of cooking. I base my classes on the ability of each person and make the techniques simple to learn. You'll be surprised how complex the flavors turn out and you will return home able to reproduce these dishes in your own kitchen. Although chiles are used, this is not a cuisine that is about hot and spicy (unless you want it to be). The chiles are used to produce flavors as ancient as the Aztecs and as sophisticated as French cuisine.
I invite you to join me for a week of immersion in Mexican cuisine and life; in my house "Casa Carmelita" where you will cook and experience the routines of a Mexican country home. More than just a cooking school this is an experience of Mexico and its cuisine that is rarely found.
Give yourself the pleasure of a quiet haven of cooking and relaxing; a wonderful way to spend a week with others from around the world, glass of wine in hand swapping tales and hearing stories about Mexico, its culture, cooking and tasting its food.
Sightsee in the afternoon and return in the evening for cocktails and a candlelit gourmet dinner. If the evening is cool relax in front of the fireplace in your room with that book you never have time to read at home.
What a wonderful thing, to take home Mexican Cooking to use and enjoy for years to come with family and friends instead of just returning with photographs and trinkets.